Reimbursement opportunity varies among countries. Which countries have the best reimbursement potential?
Some countries are advanced than others in offering reimbursement opportunity. Among the standardized European reimbursement pathways, one pathway is preferred by majority of the survey participants.
The reimbursement opportunity and potential for digital health solutions vary across countries. Factors such as regulatory environment, market size, and the healthcare system's readiness to integrate digital health solutions contribute to the variation. In order to understand the opinion of digital health decision makers on reimbursement landscape, reimbursement channels, monetization approaches and more, R2G conducted a global survey on "How to make money in digital health?" The detailed results are published in the whitepaper "Monetizing Digital Health Solutions – 2023".
The survey participants ranked the USA as having the highest reimbursement potential for digital health solutions, followed by Germany and the UK. This ranking has remained mostly unchanged over time (see also "Digital Health Business Outlook Survey" from January 2023). Notably, the Centers for Medicare and Medicaid Services (CMS) in the USA offer the most comprehensive reimbursement codes for telehealth visits, remote patient monitoring, and virtual care compared to other countries.
Although European market remains fragmented, several EU countries have implemented or are considering the implementation of assessment frameworks to evaluate digital health apps and provide direct access to the public reimbursement system. (For more information on the countries categorized as leaders, followers, and laggards in terms of standardized reimbursement processes, refer to R2G's whitepaper: "DIGA 2022: Is it worth the hype?")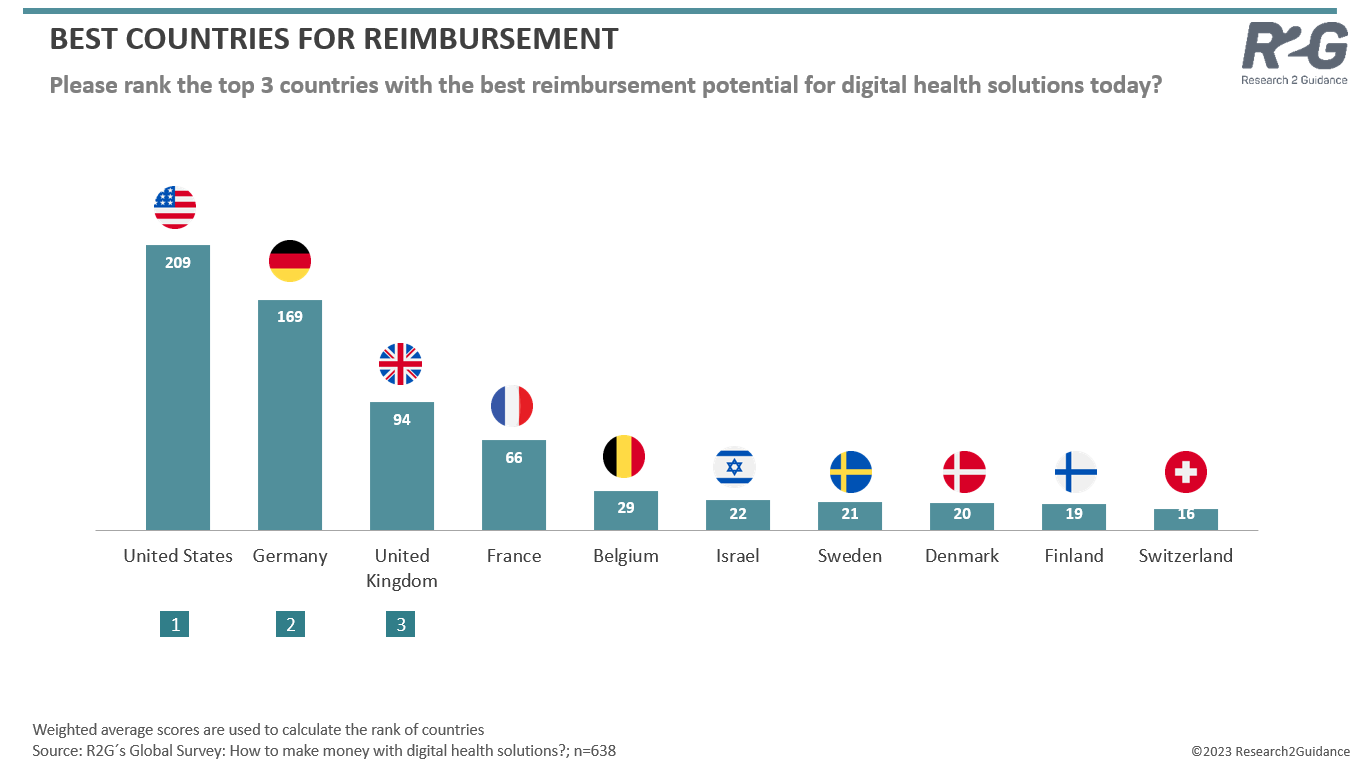 Nordics were ranked low despite of having reimbursement codes for telehealth and even RPM for cardiovascular or pulmonary diseases. Netherland, Spain, and Italy were ranked further down the top 10 countries by the survey participants.
Standardised reimbursement pathways are one of the ways to attain reimbursement. Among EU countries, Germany, France, the UK, and Belgium have established standardized processes for reimbursing digital health apps or medical devices.
Germany led the way by implementing a standardized process, allowing digital health vendors to access the public health insurance system and provide reimbursement to the 73 million publicly insured residents in the country.
In the UK, applicants seeking reimbursement for digital health solutions must undergo the NICE guidance process, which recently introduced a fast-track pathway called Early Value Assessment. Similarly, France followed a similar route for app reimbursement as medical devices until the launch of PECAN in 2023, a fast-track process designed to expedite reimbursement.
In Belgium, the mHealth Validation Pyramid was established in 2019 for evaluating and validating digital health solutions.
Additionally, among the 30% of the survey participants that have applied or plan to apply for a European reimbursement pathway, majority of the participants have applied or plan to apply for DiGA in Germany (26%), followed by NICE guidance in the UK (16%), PECAN in France (9%), and a total of 6% of participants that have applied or show interest in mHealth Pyramid in Belgium.
In summary, the USA stands out as a prominent leader in providing reimbursement opportunities for digital health vendors, while Germany takes the lead among European countries. Although only a few countries currently offer standardized reimbursement pathways, this is expected to increase in the future. However, it is important to note that the availability of reimbursement pathways will still require a country-by-country market entry approach.
Download your free copy of the whitepaper to gain valuable insights and stakeholder perspectives on effective monetization strategies, successful business models, barriers in monetizing digital health solutions and much more!
R2G has been constantly monitoring the global digital health industry since 2010. We provide strategic advice for how to build and grow a successful digital health business within all therapeutic areas, business models and regions. We are happy to talk and share our experience!
For more information reach out to [email protected]